Area Information

Experience the rich pastoral Central Kentucky Bluegrass landscapes, villages, towns, and cities. Contact www.kentuckytourism.com. The tourism offices are in Bourbon and adjacent counties and can help with details and places to stay during your Cane Ridge visit.

Lodging and Touring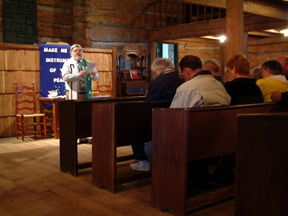 Curator James Trader leads worship in the Meeting House.
Paris-Bourbon County
Paris-Bourbon County Tourism Commission
720 High St.
301 Main Street, Paris, KY 40361
859/987-8744; FAX 888/987-3205
www.visitmyparisky.com

Paris-Bourbon County Chamber of Commerce
720 High St.
Paris, KY 40361
859-987-3205; 888-987-3205
Main Street Manager
525 High St.
Paris, KY 40361
859-987-1315
www.visitmyparisky.com

Georgetown-Scott County
Georgetown-Scott County Tourism Commission
399 Outlet Center Drive
PO Box 825
Georgetown, KY 40324
502-863-2547, 888-863-8600; FAX 502-863-2561
gtown@mis.net
Georgetown-Scott Chamber of Commerce
160 East Main Street
Georgetown, KY 40324
jack@gtown.org
www.gtown.org

Winchester-Clark County
Winchester-Clark Tourism Commission
2 South Maple Street Suite A
Winchester, KY 40391
859-744-0556; FAX 859-744-9229
chamber@winchesterky.com

Winchester-Clark County Chamber of Commerce
2 South Maple Street
Winchester, KY 30391
859-744-6420
chamber@winchesterky.com
www.winchesterky.com

Lexington-Fayette County
Lexington Convention & Visitors Bureau
301 East Vine Street, Lexington, KY 40507
859-233-1221; FAX 859-254-4555
jmarowski@visitlex.com

Greater Lexington Chamber of Commerce
330 East Main Street #100
PO Box 1968
Lexington, KY 40588-1968
Lex-chamb@lex.infi.net
www.lexchamber.com

Cynthiana-Harrison County
Cynthiana-Harrison County Chamber of Commerce
203 W. Pike Street, Cynthiana, KY 41031
859-234-5236, FAX 234-8303
cynchamber@se-tel.com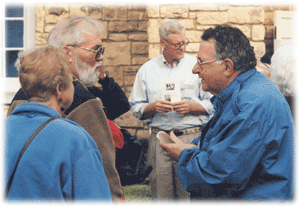 Mount Sterling-Montgomery County
Mount Sterling-Montgomery Tourism Commission
126 West Main St., Mt. Sterling, 40353
859-498-8732
www.mtsterlingtourism.com
mtourism@mis.net

Mt. Sterling-Montgomery County Chamber of Commerce
126 West Main Street
Mount Sterling, KY 40353
859-498-5343

Carlisle-Nicholas County
Nicholas County Tourism, Inc.
120 West Street, Carlisle, KY 40311
859-289-5174
gshrout@bellsouth.net

Carlisle-Nicholas County Chamber of Commerce
PO Box 304
Carlisle, KY 40311
(859) 289-5174 or Toll-free (877) 289-4212
www.carlisle-chamber.com

Nearby Recreational Vehicle Campsites

Two major recreational vehicle campsites are advertised in tourist publications for the area near Cane Ridge.

1. Blue Licks Battlefield State Park is located on US Highway 68 about 20 miles from Cane Ridge and 20 miles southwest of Maysville. The 1783 Battle of Blue Licks, the crossing of the Licking River where many Kentuckians were slaughtered by Indians whom they were pursuing from Central Kentucky, took place here. The "lick" was a stopping place for migrating bison and prior to that, for prehistoric mastodons. A museum at the park reflects burial discoveries and Revolutionary War era artifacts. Guidebooks state that there are 51 sites, electric and water hookups, dump station, grocery, pool, playground, miniature golf, and nature trails.

Though no reservations are taken for the state park RV sites unless there is a large group, there are no restrictions on staying once a person has secured a site. You may stay for the duration of your Cane Ridge visit. For further information contact Kentucky State Parks, 1-800-255-7275 and/or Blue Licks Battlefield State Park, 1-859-289-5507.

2. Kentucky Horse Park is located at Interstate 75 Exit 120. The Horse Park is a busy place as it is one of the premier tourist attractions in the Lexington area. Here one can see virtually everything about the horse industry.

Though there are no reservations taken for the Horse Park RV sites, one can stay for the duration of your Cane Ridge visit once in. The guidebooks state that there are 260 sites, electric and water hookups, dump station, grocery, pool, playground, croquet, and tennis.

Contact the Kentucky Tourism Cabinet or phone 1-800-225-8747 for the Official Vacation Guide.

Happy and safe travels to Cane Ridge. Please contact us if you think we might be of assistance.


Cane Ridge Meeting House. All Rights Reserved.